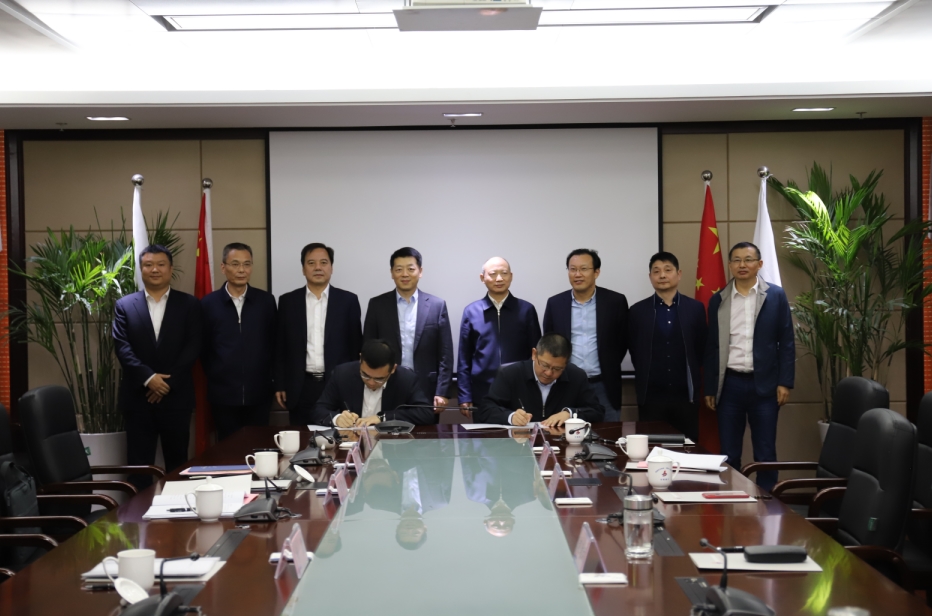 October 10th / Hefei, Anhui Province - The signing ceremony of the strategic partnership cooperation agreement between ACEG and Industrial and Commercial Bank of China (ICBC), Anhui Branch, was held at Anjian Mansion International - ACEG's headquarters office building. Zhao Shiyun, Party Secretary and Chairman of ACEG, and Mei Shuang, President of ICBC, Anhui Branch, attended the signing ceremony. Wang Shude, ACEG Party Committee Member and Chief Accountant and Gao Zhigang, ICBC Anhui Branch Party Committee Member, signed the agreement on behalf of their respective sides. Before the signing ceremony, Zhao Shiyun warmly received Mei Shuang and his delegation and presided over the discussion and exchange meeting.
Zhao Shiyun extended a warm welcome to Mei Shuang and his delegation and expressed his heartfelt thanks to ICBC Anhui Branch for its long-term cares and supports for ACEG's development. He also introduced briefly the development situations of ACEG and pointed out that in recent years, ACEG has firmly implemented its new concept of development, and promoted high-quality growths with focuses on reforms, transformations and development, vigorously promoted the "Integration of investment, financing, construction and operation" model and taken the lead in the province in establishing industrial investment funds with financial institutions and implemented a large number of water conservancy, energy, transportation, environmental protection and urban infrastructure projects, which have greatly improved its profitability and brand influence. He hopes that ICBC Anhui Branch will continue to give ACEG stronger supports in infrastructure construction, overseas businesses, industry chain finance and personal businesses, and promote mutual benefit and win-win situations between the two sides and write jointly a new chapter in the development of bilateral cooperation.
Mei Shuang has introduced the operation and development situations of ICBC Anhui Branch in recent years and thanked ACEG for its strong support to ICBC for a long time. He said that ICBC Anhui Branch would take the signing of this strategic partnership agreement as an opportunity to further expand the spaces of bilateral cooperation and give full play to ICBC's advantages in comprehensive financial services and innovate its cooperation models in infrastructure construction and expand cooperation fields and push the bilateral cooperation to a new level.
Other leaders and relevant department heads from both sides also attended the discussion and signing ceremony.